Anychair Yoga Book

Anytime, Anywhere, Anychair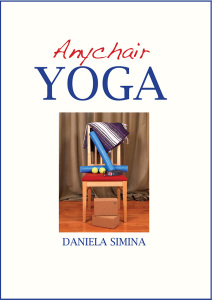 Is getting on-and-off the floor challenging for you? Whether confronted with injury or severe weight gain, the problem is the same: you don't have the freedom to move as you wish, and this creates a lot of frustration.
You are getting depressed, and rightfully so.
I have been in the same place struggling with debilitating pain, unable to lie down, nor walk, not even drive. I hit a plateau where medication had no effect. Life wasn't fun anymore: it was agony.
The doctor's verdict was grim: I must have surgery or face paralysis of the left arm. But I listened to my inner voice: I heard about the healing potential of yoga and decided to give it a try.
Practicing through pain and with very limited ability to move made it harder then I thought. I quickly realized the difficulty of practicing without knowing how to modify poses and transitions for my specific problem.
Finally, it downed on me to use a chair, and that was the turning point. I didn't have to get on and off the floor, which had been a big hindrance. I could approach a wide variety of poses as the chair allowed me to modify as needed.
Soon the pain decreased substantially.
From the darkness of those moments of pain and fear the idea for Anychair Yoga emerged. Now let me tell you what it can do for you.
Benefits
Enjoy a complete yoga practice with all major poses adapted: you don't have to get on and off the floor
Develop awareness, the most important ingredient of all enterprises
Create your own practice to address specifically your problem
Learn to combine breathing techniques with physical postures in a cohesive routine of your own
Practice at your desired level of intensity
Strengthen your core, and tone abdominal muscles.
Develop balance by practicing in fun and engaging ways
Increase flexibility
Learn to release stress, relax, and renew
Leverage your breath to develop powerful health
Highlights
The chair provides support, allowing to perfect form and alignment
Complements mat practice
Shows how to build intensity up to the desired level in a very gradual progression
One complete sample practice for you to follow
Poses are grouped into categories, and you will learn how to combine them based on your own needs
Pranayama and Relaxation segments can be used independently
This program is unique because you get variations for each potentially problematic pose. These variations apply to common injuries of the back, neck, knees, hips, and shoulders. Core strengthening is a main component of Anychair Yoga.
This book provides easy instructions and pictures tell the rest! Jeanne Samter, Amazon review
Buy it today on amazon.com
Testimonials
I just wish I knew about this amazing and convenient technique before I had two discs removed from my neck. As an administrative assistant in a fast-paced environment, there are times where you need a break but aren't able to get away for a walk or a stretch. Anychair Yoga introduces a unique way to exercise while you work. P. Altomaro, Amazon review
Originally, I purchased this book for my students suffering from limited motion. It has a standard lesson plan with variations making it a great tool for teaching. I also like the photographs that accompany each pose. What I had not considered is the value of this book for people who are stuck behind desks all day. What a bonanza! Using these exercises at work will be revolutionary! Linda Kelly, Amazon review
I've used this book with my students and they love it. Great information and easy to understand.Ana Rodriguez, Amazon review
Frequently Asked Questions
Q: I have no flexibility. Is this yoga program suitable for me?
If you are not flexible, then this program is particularly suitable for you. Practicing yoga on the chair provides the much-needed support for you to relax in the poses while maintaining proper alignment. As you release tension from the muscle through supported, gentle stretches in combination with proper breathing your muscles will gradually lengthen yielding in time for more flexibility.
Q: I have never done any form of exercise. Would this program too complicated for me to follow along?
This program is an ideal start into exercise. The guidance is very detailed, with options to follow in case you need modifications, and many pictures to complement the written instructions. The chair allows building up intensity in small increments to make your progress smooth and safe. After mastering the material in this book you may want to try the Anychair DVD, or move directly into a mat practice with Yoga Fundamentals DVD.
Q: I travel often by plane and I always arrive at destination with a painful back and stiff neck. Can this book give me any tips on quick recovery from such hassle?
Besides the many tips on quick recovery from pain and stiffness associated with spending long hours seated, "Anychair Yoga" teaches you what to do during airplane or train travel to prevent such pains.
Following the clear pose descriptions accompanied by well thought of illustrations, I was able to arrive at destination without my regular stiff neck and back, and less swollen feet. Justinian Rosca, Amazon review
Q: What should I do if I have any questions?
We do welcome your questions. Just use the Contact form.
Buy it today on amazon.com