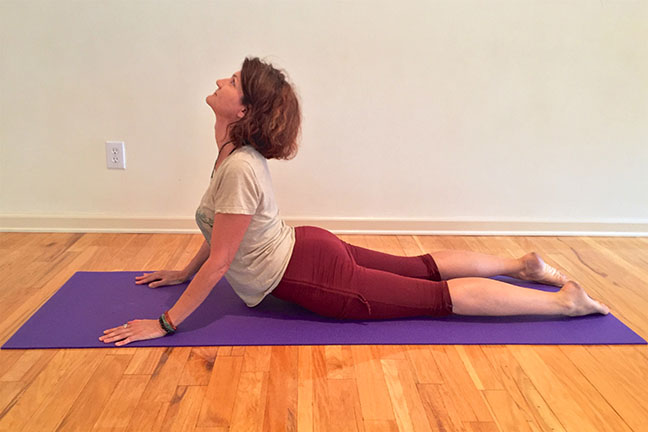 "The secret of the eternal youth lays within a flexible spine," are the words of the modern Yoga legend, BKS Iyengar, who made spine flexibility the crux of his asana practice. Despite its apparent simplicity, Cobra is one of the foundation poses for developing spinal flexibility. It has numerous benefits to offer, and not all of them are obvious at a first glance.
As with all poses, back bending in particular, modifications may be necessary to meet students at their level of comfort and ability.
Benefits
Opens the chest; reinforces the habit of keeping the shoulders down.
Drawing the shoulder blades toward the midline and away form the head strengthens the upper back muscles and helps correcting winged scapulae.
Counteracts the excessive rounding of the upper back resulting from poor posture and poor muscle tone.
Pressing the head back in Cobra strengthens the neck muscles.
Opens the front body, from head to toes -literally.
Stretches the chest muscles and tones the upper back, correcting stooped positions.
Stretches the hip flexors, contributing to pain relief in the lumbar area, where the major among hip flexors attaches itself to the spine.
Restore spinal flexibility.
Tractioning forward on the arms while in Cobra makes the pose safe and renders it very efficient in relieving compression on the lumbar discs.
Massages the organs within abdominal and pelvic cavities.
Energetically balances the kidney and adrenal glands.
Relationship to Other Poses and Techniques
Shambavi Mudra: main technique used to gather energy in the Ajna Chakra, promoting a relaxed yet alert and focused state. This technique helps strengthening the ocular muscles, counteracting ocular fatigue. Cobra facilitates the practice of Shambavi Mudra because it builds on the natural tendency to gaze upward upon lifting the head, as it occurs with this pose.
Downward-Facing Dog: complements Cobra through opening up the back body, while relaxing the front body. Down Dog stretches the back muscles that contract in Cobra, restoring balance.
Upward-Facing Bow: Cobra is a great preparatory pose for the more challenging Upward-Facing Bow because it warms up the spine and stretches the hip flexors. Even more important, it teaches the habit of lengthening the lower spine throughout the pose to avoid jamming the lumbar vertebrae.
Twists: they are great complements to Cobra. Twists relieve tension in the back muscles that may built up with intense backhanding. They add another important component to the development of spine flexibility, that of twisting through the spine – a nice addition to the ability to backbend.